Lake Eddins Owner's Association, Inc.
27 Lake Eddins 1638 Pachuta, MS. 39347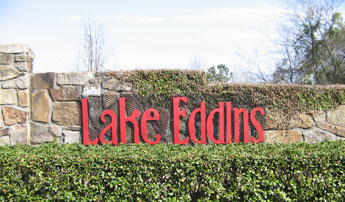 A quiet, private, lakeside community with friendly neighbors!
LEOA office hours: 8 a.m. to 4 p.m. Mon-Fri.
Telephone: 601-727-3535
Fax: 601-727-3536
Email: leoa@bayspringstel.net
Emergency: 601-604-1412
Jasper County Sheriff: 601-764-2588
Lake Eddins Security:
Tommy Godwin: 601-917-4233
Ronny Walters: 601-283-0010
Steve Arinder: 601-480-7221
First Responders:
Oliver Joyner: 601-917-2781
Randle McCraw: 601-513-3040
Robert Buckalew: 601-323-7918

Local Utilities:
TEC Telephone Co: 601-764-2121
Southern Pine Electric: 601-785-6511
Copyright 2007 Lake Eddins Owner's Association, Inc.
Anchor Club News:
Lake Eddins Anchor Club meets at 6:30 p.m. the first Thursday of the month. There is a potluck supper in conjunction with the meeting. The next potluck supper will be Thursday, May 1st at
6:30 p.m. Bring a covered dish and share a delicious meal with your neighbors. You do not have to be a member of Anchor Club to attend.
Lake Eddins phone books are available at the Lake office. Phone books are $3.00 each. (Proceeds benefit the Lake Eddins Anchor Club)
Lake Eddins VFD News:
2014 LAKE EDDINS VOLUNTEER FIRE DEPARTMENT BASS TOURNAMENT will be on May 24th. It is an open tournament for anyone interested. The entry fee is $110.00 per boat. The entry forms are in the Lake Eddins office and the old Luter's Marine in Laurel. If you are not able to pick one up at either place contact one of the following numbers and one can be emailed, faxed or mailed to you. Lake Office 601-727-3535, Levis Quave 601-928-8702 or James Hennington 601-727-2114. For your convenience, click here for entry form.

LEVFD meets the second and fourth Tuesday at 6:30 p.m. of each month. Come to a meeting, meet our volunteers, and see if you would be interested in becoming a member of the LEVFD.
2014 Officers:
Fire Chief: Levis Quave
Assistant Fire Chief: Neal Dulaney
Secretary/Treasurer: James Hennington

Lake Eddins t-shirts, hats, tags and stickers are available at the Lake office. T-shirts are $6.00, hats are $10.00, tags are $10.00 and stickers are $4.00. (Proceeds benefit the Lake Eddins Volunteer Fire Department)
Notices & Announcements
The next LEOA monthly Board Meeting is scheduled for Monday, May 5th at 5:00 p.m.
LEOA Board of Director's Website: lakeeddinsbod.com
LEOA Board of Director's Email: info@lakeeddinsbod.com
For lake information & projects visit the Lake Eddins Improvement Committee Website www.lakeimprovementcommittee.com
FISH LIMITS
(Effective June 03, 2013 - June 03, 2014)
Bass - 15" in length and less - 10 per person per day
Bass - Over 15" in length - Release as quickly as possible. If you measure, weigh and photograph fish, please do so as quickly as possible and release bass back into the lake.
EXCEPTION - One bass per person per day over 23" in length may be kept.
CRAPPIE (WHITE PERCH): 50 per person per day
BREAM: Limit 15 per person per day
CATFISH: No limit - Keep all caught
GAR: Take out all caught
REMINDER:
Building permits are required for any new construction, also any exterior modification of existing buildings. A permit is also required for piers, seawalls, fences, signs and certain types of lot landscaping. Please contact the Lake Manager or another member of the Architectural Review Committee for further information.


LAKE RULE CONCERNING PETS: ALL pets are to be kept on the owner's property or under the control of the owner at all times. Barking or loose dogs will be considered a nuisance and can result in penalties for the LEOA Member. Your neighbor does not want your pets on their property.

Only bagged household garbage is to be placed into the dumpsters, and please be sure it gets "INTO" the dumpster. Your cooperation is needed.

Please keep a current mailing address and phone number at the Lake Office. If your address or phone number changes, and we aren't notified, we cannot get in touch with you. Reminder: If you have a structure on your property you are required to obtain a 911 address.

The monthly Newsletter is available on the Documents page. If you would like the monthly newsletter sent to you via email contact lakeeddinsnewsletter@gmail.com